Safety & Environment
Safety at AltaGas: We conduct our business activities safely. We don't move forward until it can be done safely.
Safety is a core value at AltaGas and is an integral part of how we operate.  It is our position that AltaGas operates all aspects of our business with the highest regard for the safety of our employees, contractors and anyone impacted by our operations.  In doing so, our 1,600 of employees throughout Canada and the United States are endowed with the responsibility to exhibit safe behaviors and take the steps necessary to encourage the same behaviors in others. Ownership  for safety lies with each and every AltaGas employee at all levels in the organization.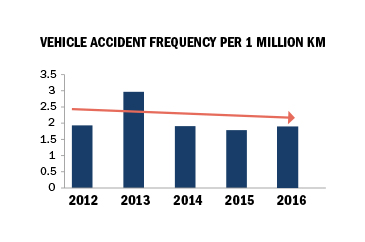 Safety is an integral part of everything we do at AltaGas. This is why AltaGas constantly evaluates its systems and processes to identify opportunities for improvement in our Safety programs which leads to continuous improvement in our Safety performance. AltaGas also actively works with industry groups and communities within which we work to improve safety for our stakeholders and to increase the understanding of our business.
SAFETY
At AltaGas, keeping our employees and the public safe is our first priority. If you smell, hear or see a problem in the vicinity of one of our pipelines or facilities, call our 24-Hour Emergency Line:
1.866.826.3830 in Canada
AltaGas and the Environment: We conduct our business activities in a socially responsible and ethical manner minimizing the impact our operations and activities have on the environment.
Environmental Stewardship is a core value at AltaGas and is integrated into all elements of how we conduct our business. Protecting the environment and minimizing our impact is critical to AltaGas maintaining a sustainable business that provides for our stakeholders today and well into the future.  In support of this commitment, we hold our employees and those engaged in working on our behalf to the same expectations of environmental protection, accountability and stewardship.  We engage with our internal and external stakeholders in open communications on environmental matters and seek to obtain input from interested parties.
To help ensure the responsibility and accountability for environmental protection, AltaGas maintains an integrated management system, which provides a framework for how we operate.  We educate our employees in environmental safeguarding, and ensure those working on our behalf aware of their responsibilities under the management system.
We operate our businesses in compliance with regulatory requirements and good industry practices. To provide assurance of meeting our commitment, AltaGas continuously monitors our environmental performance to ensure we are meeting our expectations as well as those of the regulatory community.
Planning for the future, AltaGas utilizes sustainable design, construction,  operating and decommissioning  practices throughout our business.  Innovation at AltaGas is a key component of our environmental footprint management activities.
At AltaGas, we are diligent in being prepared in the event an environmental incident were to occur. By maintaining and practicing emergency preparedness systems and procedures, AltaGas is able to efficiently address an event and minimize the environmental  impact.