People and Culture
Our people are the heart of our company and are key to delivering operational excellence. Spanning North America, our diverse workforce of approximately 3,000 employees are guided by one set of Core Values and a common mission.
At AltaGas, our model for a high-performance culture is based on attracting, developing, and retaining our people. We invest in our people through talent development, diversity and inclusion initiatives and engagement strategies.
Our commitment to "Invest in our People & Foster Diversity" is visible through our underlying principles and strategies including:
Leadership embodies and champions our initiatives by leading in inclusive ways
Enhancing opportunities for our people through leadership development programs and talent development strategies
In recruitment, using diverse candidate slates and interview panels
Our executive leadership team sponsors employee resource groups (ERGs), creating a direct linkage between our ERGs and senior leaders to further mentorship, support and guidance 
Supporting workforce development and training opportunities within local communities
Leveraging the diversity of our talent to innovate, grow and better serve our customers
---
Learn more about our people in our 2022 Environment, Social and Governance Update.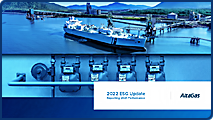 PDF | (4mb)