AltaGas Pipeline Damage Prevention
At AltaGas, we put the health and safety of our people, customers, and communities above all else. We believe in being a safe operator, a responsible steward of the environment and a good neighbor in our local communities
Common causes of pipeline damage come from excavation, construction and agricultural activities. Keeping contractors, the public and our assets safe is a shared responsibility that we take very seriously.
Our Pipeline Damage Prevention program helps to ensure landowners, farmers, businesses and nearby residents have the information they need to safely live and work near the pipelines we own and operate.
If you are planning to do work near an area with a marked AltaGas pipeline sign, please contact the One-Call Centre in your area. Your call will be directed to us and our crews will respond to conduct a line locate. This activity is free and will be responded to promptly. One-Call centres provide a single point of contact for receiving notices of intent to conduct ground disturbance activities and locate requests, and to notify affected owners and operators of underground infrastructure.
Making contact with an underground pipeline can have serious consequences including:
Personal injury or death
Endangerment of AltaGas employees
Environmental damage
Loss of service
Legal or regulatory action
How do you know if there is an underground pipeline?
Line markers and warning signs are used to indicate the presence of the pipeline in areas along the Right-of-Way (ROW).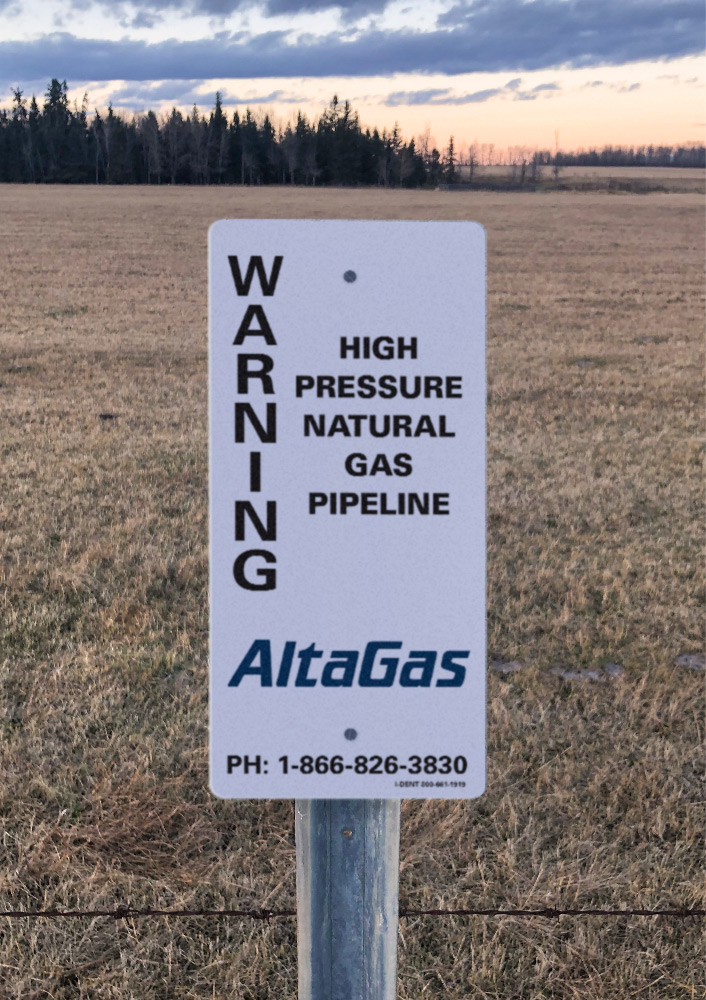 What is a Pipeline Right-of-Way?
A Right-of-Way (ROW) is a strip of land where a pipeline is buried. The ROW surface area is cleared of trees or buildings for better visibility and access and marked by signage that indicates the pipeline owner.
Signage near a ROW provides a company name where buried assets may exist and if required an emergency phone number. Signage is only approximate to where the buried assets are located (Click Before You Dig).
The ROW enables AltaGas employees and contractors to access the pipeline for operations, inspections, maintenance, testing and repairs.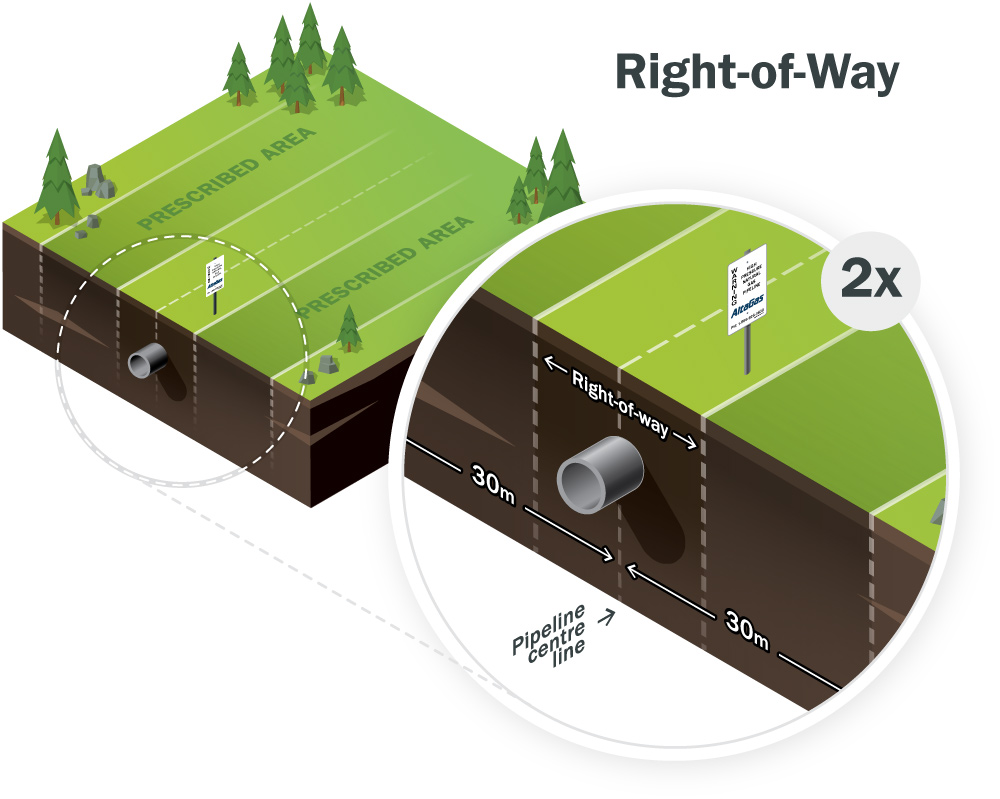 ---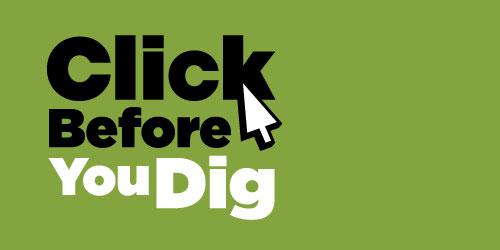 Before beginning work, you are required to visit www.clickbeforeyoudig.com or call the One-Call Centre in your area:

AB One Call # is 1-800-242-3447
SK first Call # is 1-866-828-4888
BC 1 Call # is 1-800-474-6886

The One-Call Centre will obtain dig information, including location of work, type of work and timelines and create a work ticket.
The centre will identify and notify pipeline owners of the proposed work area.
AltaGas, or a designated contractor, will receive the One-Call ticket and make contact with you within 2 working days to obtain project details and arrange timing for line locate(s).
If AltaGas confirms there is a pipeline in the work area:

A specific approval will be issued by the land department upon request.
You must follow up by email: third.partycrossing@altagas.ca or by contacting 403-691-7575 and requesting connection to the Land Department.
If there is no facility or pipeline, the work can continue with no further involvement from AltaGas.

During digging activities if you experience a line strike, unplanned exposure, see signs of a pipeline leak or realize an activity is occurring on a designated Right-of-Way without approval, please contact the AltaGas Emergency Number 1-866-826-3830.
Contacting One-Call is easy, free and will guarantee your ground disturbance work begins safely. Your local One-Call Centre will gather all project information and inform the pipeline owners of your activity. Within a few days, asset owners will be out to locate and mark their underground infrastructure.