Environment
We integrate environmental stewardship into how we conduct our business. Our focus is on operational excellence to minimize environmental impacts throughout the lifecycle of our operations while meeting the energy needs of our customers.
Guided by our Environment, Health and Safety policy, we are committed to managing and minimizing our impact and enabling a strong environmentally conscious culture.
This includes implementing programs to safeguard the environment by proactively identifying and managing risk, using innovative technology, applying lessons learned and following leading practices to continually improve our performance.
Our commitment to environmental stewardship includes:
Complying with or exceeding applicable laws, regulations and industry standards
Minimizing our environmental footprint through sustainable design, construction, operating and decommissioning practices
Engaging meaningfully with Indigenous Peoples to understand and address potential impacts to Indigenous rights
Engaging in practices to conserve resources through safe and efficient management of our operations
Monitoring our environmental performance through key performance indicators
Educating and training our workforce in proper environmental stewardship practices
Energy Evolution
We are taking a balanced approach to the energy evolution. One that is built on the foundation of our mission – to provide access to affordable energy to improve quality of life.
Our climate strategy is focused on reducing GHG emissions within our areas of operation while positioning our businesses to participate in future global emissions reduction and decarbonization initiatives.
---
Learn more about how we minimize our environmental footprint in our 2022 Environment, Social and Governance Update.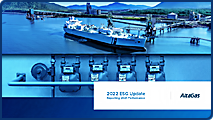 PDF | (4mb)