Community Partnerships
By balancing social responsibility with the economics of doing business, we can deliver sustainable benefits to our stakeholders. In addition to supporting local community initiatives, we're a significant donor to charitable organizations across our operating regions.
In 2021, we donated $5.2 million to local community organizations, representing 1% of our pretax profit. Our corporate grants program has been shaped through ongoing consultation with our stakeholders, including communities, local organizations and employees. We support community initiatives across our operating regions with a focus on three core areas:
Healthy and Safe Communities
Bright Futures
Environmental Champions
To submit a grant request please access our grants management system at https://altagas.versaic.com/login.
Food Security:
We support food security initiatives in many of our local areas. Check out our video to learn more about how we're addressing immediate and long-term hunger relief. 
---
Healthy and Safe Communities
We support organizations on a mission to improve the holistic health and well-being of individuals within the community by promoting good citizenship, social responsibility and quality of life. Our focus is on organizations dedicated to alleviating community social issues such as homeless shelters, women's shelters, food banks and youth services.
We are pleased to support local Food Banks and United Way Chapter organizations across our Canadian and SEMCO operating areas.
Our partnership with United Way supports many aspects of individual and community well-being such as; youth mental health supports, access to basic needs services, poverty reduction, and addressing seniors' isolation. Our support for the United Way of Calgary dates back to 1994. We have a specific focus on providing support for organizations that increase systemic food security. Our support of the Montgomery County Food Council in Maryland resulted in providing solar electricity for a refrigerated food distribution vehicle. A similar partnership with Prince George's Food Equity Council in Maryland allowed the organization to purchase four refrigerated food distribution vehicles.
Across our operations area in Western Canada, the STARS Foundation remains a valued partner as they provide integral life-saving emergency transportation and response services.
Bright Futures
We believe in the importance of developing math, science, technology and business skills within organizations such as universities, colleges, libraries and local schools. We provide support through scholarships, award sponsorship, curriculum-enriching programs and community-based learning initiatives.
We offer scholarships to students pursuing post-secondary education across our entire operating area. We support Boys and Girls Clubs, Junior. Achievement and the YMCA in the D.C. area, Boys Scouts and STEM education initiatives across our SEMCO operating area, and are pleased to partner with Inspire and Right to Play in Canada.
Environmental Champions
We care about the environment and direct funding to programs that promote a healthy environment, as well as organizations that protect and preserve the ecological system of the communities we serve. We focus on community-based environmental initiatives, educational programming focused on environmental protection and/or conservation, as well as emergency relief.
Through funding support and the involvement of our employees, we support environmental clean-up initiatives, The Clean Air Partners initiative with the Metropolitan Washington Council of Governments, and environmental education initiatives and sustainable business development initiatives in rural Alberta and B.C.
---
Learn more about our commitment to creating social value for our communities in our 2022 Environment, Social and Governance Update.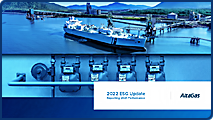 PDF | (4mb)