Community Partnerships
We strive to excel as a responsible corporate citizen by giving back to the communities where we live, work and do business by providing funding for non-profit organizations and projects and initiatives that help build and enhance communities.
By balancing social responsibility with the economics of doing business, we deliver sustainable benefits to our stakeholders. Our giving program has been shaped in response to feedback from our stakeholders, including communities, local organizations and employees. We support local community initiatives and donate to charitable organizations across our operating regions that focus on three core areas:
Healthy and Safe Communities
Bright Futures
Environmental Champions
To submit a grant request please access our grants management system at https://altagas.versaic.com/login.
---
Our partnerships:

We've supported the Shock Trauma Air Rescue Service (STARS) for over 20 years. The non-profit helicopter air ambulance organization provides rapid and specialized emergency care and transportation for critically ill and injured patients and is an integral part of emergency response for our communities within our remote Midstream operations in Alberta and B.C.

AltaGas began working with United Way of Calgary and Area in 1994. Since 1994, we have received several awards for our involvement in the annual campaign including the award of excellence and the President's Award. In 2020, through our employee giving campaign we donated over $350,000.

Our partnership with Nordiq Canada started in 2007. We've donated over $4M since then, supporting Canada's National team on their journey to the Olympics and Paralympics, as well as the grass roots Club Coaching and Ski-at-School programs. Through the club coaching and Ski-at-School programs, we have helped bring cross-country skiing to thousands of people of all ages in communities and schools across Canada. Cross country skiing has the benefit of being both affordable and accessible so everyone can experience the benefits of a sport that contributes to overall health and well-being.
---
Learn more about our commitment to creating social value for our communities in our 2021 Environment, Social and Governance Report.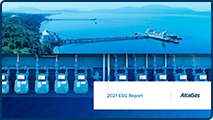 PDF | (9mb)