AltaGas and Astomos Sign Milestone Agreement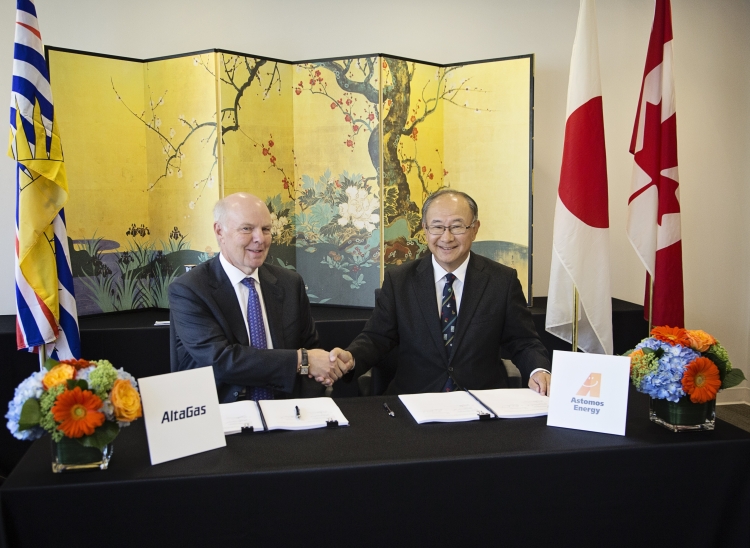 David Cornhill, Chairman, AltaGas and Osamu Masuda, President Astomos Energy celebrate the signing of an agreement for the sale and purchase of LPG from the Ridley Island Propane Export Terminal currently under construction.
August 1, 2017
On August 1, 2017 an official signing ceremony occurred between AltaGas Ltd. and Astomos Energy Corporation of Japan to conclude the sale and purchase agreement for Liquefied Petroleum Gas (LPG) from the Ridley Island Propane Export Terminal.
Astomos, one of the world's largest LPG players, will purchase 50 percent of the 1.2 million tonnes of propane shipped from the Terminal each year, beginning in Q1 2019. At a time when Canada is seeking to diversify its energy markets, and Japan is seeking new energy sources, the agreement between Astomos and AltaGas contributes to expanding the cooperative ties between the two nations.
The long-term agreement is a major step forward for AltaGas' Ridley Export Terminal, the first of its kind off Canada's west coast. It will provide producers in northeast B.C. new access to premium markets in Asia for their propane while also providing a secure new source of LPG to Japan. The advantages of the location of the Terminal are indisputable: a 10-day sail to Japan versus a 25-day sail from the U.S. Gulf Coast, access to Canadian National Railway's existing rail network and AltaGas' processing plants; and a world class marine jetty with deep water access to the Pacific Ocean.
Construction of the Ridley Terminal is well underway, on time and on budget with an expected in service date in the first quarter of 2019.