AltaGas Celebrates Partnership with Shock Trauma Air Rescue Service (STARS)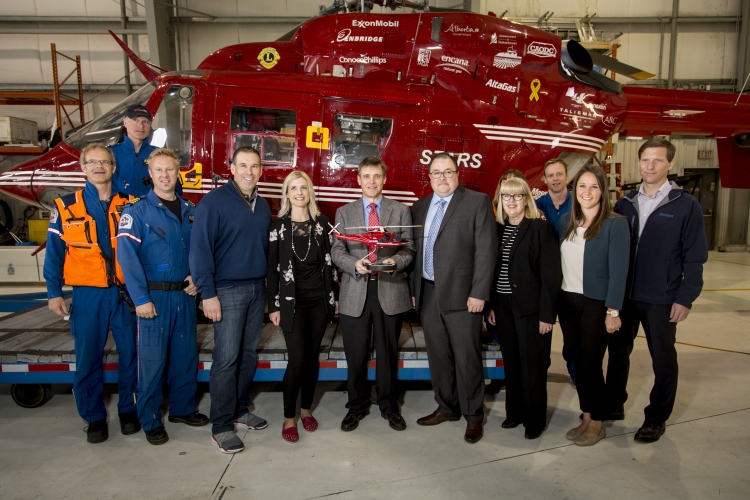 May 15, 2017
Over the past 19 years, AltaGas has partnered with STARS to help bring emergency medical services to residents of Alberta, British Columbia and Saskatchewan. Recently AltaGas' aggregate contributions to STARS surpassed the $1 million mark. On May 15, representatives from AltaGas and STARS celebrated this long-standing partnership with a logo unveiling event at the STARS' base in Calgary.
"Safety is a core value and an integral part of everything we do at AltaGas," said David Harris, President and Chief Executive Officer of AltaGas. "We are proud of our long-standing support of STARS and their commitment to saving lives. STARS delivers quick access to medical rescue, which complements our safety program by providing our western Canadian worksites quick access to medical help."
STARS' Emergency Link Centre (ELC) is a 24-hour emergency medical communications centre that offers timely information to emergency service providers for critically ill and injured patients as well as a range of services for industry partners. As part of AltaGas' unwavering commitment to safety, AltaGas' worksites are registered with STARS' ELC to ensure one call begins the coordination of an emergency medical response.
"Much like AltaGas, STARS knows excellence isn't achieved by resting on your laurels. It's achieved by researching, innovating and always improving. As a charity, STARS can only do this because of steadfast support from donors like AltaGas. From the highly specialized equipment in the back of our aircraft to our blood-on-board program, AltaGas has bolstered STARS' ability to respond to dire critical situations with world-class talent and tools," said STARS' President, Andrea Robertson. "With a partnership that dates back to 1998, AltaGas has always understood and believed in the STARS mission. The support we've received from AltaGas over the last 19 years enables STARS to be there for the next patient who needs us. STARS is grateful to have AltaGas as a partner in our fight to save lives."