Investing in AltaGas
Founded in 1994, AltaGas is a Canadian corporation, headquartered in Calgary, Alberta.
Today, our business has an enterprise value of over $17 billion that includes clean energy infrastructure assets, and highly contracted assets that provide long-term stable cash flow.
The Corporation's long-term strategy is to grow in attractive areas and maintain a long-term balanced mix of stable, low risk energy infrastructure assets across its Gas, Power and Utility business segments. Our focus is on owning and operating these assets to provide clean and affordable energy to our customers.
On July 6, 2018 AltaGas acquired WGL Holdings Inc. ("WGL") for approximately CAD $9.3 billion, including the assumption of approximately $3.3 billion of debt and $41 million of preferred shares. WGL is a diversified energy infrastructure company and sole owner of Washington Gas Light Company, a regulated natural gas utility headquartered in Washington D.C. serving approximately 1.2 million customers in Maryland, Virginia and Washington, D.C. WGL also has a growing natural gas midstream business and contracted clean power assets.
On October 25, 2018 AltaGas Canada Inc. (ACI) successfully completed an initial public offering (IPO). Following the IPO, AltaGas maintains a significant minority interest in ACI common shares. AltaGas Canada Inc. holds rate-regulated utility assets including; AltaGas Utilities Inc., Heritage Gas and Pacific Northern Gas, and a minority interest in entities providing natural gas to the Town of Inuvik in the Northwest Territories. ACI also holds a renewable asset portfolio that includes the 102 MW Bear Mountain Wind Park and an indirect 10 percent ownership in the fully contracted Northwest Hydro Facilities.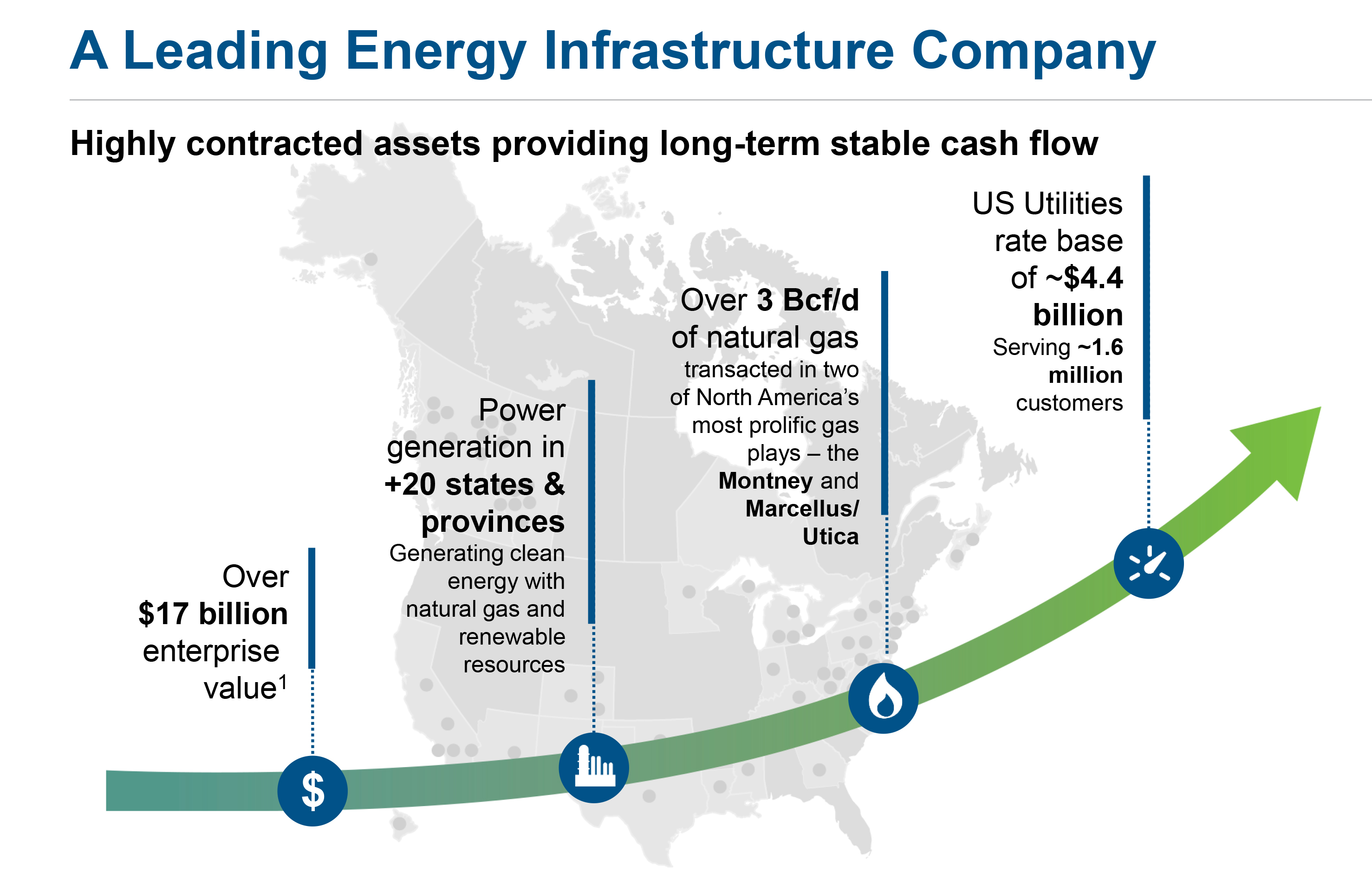 AltaGas has three business segments
Gas
AltaGas transacts more than 3 Bcf/d of natural gas and includes natural gas gathering and processing, natural gas liquids (NGL) extraction and fractionation, transmission, storage, natural gas and NGL marketing. AltaGas provides producers with an opportunity to move natural gas and natural gas liquids to new premium markets in Asia through the Ridley Island Propane Export Terminal currently under construction, and through its ownership interest in Petrogas and the Ferndale Terminal. Through the WGL acquisition we acquired interests in four regulated pipelines in the Marcellus/Utica gas formation in the northeastern United States, as well as a gas supply agreement associated with the Cove Point LNG Terminal which began exporting LNG this year.
Utilities
We deliver clean and affordable natural gas to approximately 1.6 million customers' homes and businesses' through regulated natural gas distribution utilities across five jurisdictions in the United States, and a regulated natural gas storage utility in the United States.
Power
Our power segment includes 1,931 MW of gross capacity from natural gas-fired, hydro, wind, biomass, solar other distributed generation and energy storage assets located in two provinces in Canada and 20 states and the District of Columbia in the United States. The Power business also includes energy efficiency contracting and WGL's retail power marketing business.
As a company, we have a long and successful record of delivering an effective balance between yield and growth for our shareholders.
AltaGas shares are traded under the symbol ALA on the Toronto Stock Exchange.
A Clear Vision and Strategy: A leading North American diversified energy infrastructure company
The Corporation's long-term strategy is to grow in attractive areas and maintain long-term balanced mix of energy infrastructure assets across its Gas, Power and Utility business segments. AltaGas' business strategy is underpinned by the growing demand for clean energy with natural gas as a key fuel source.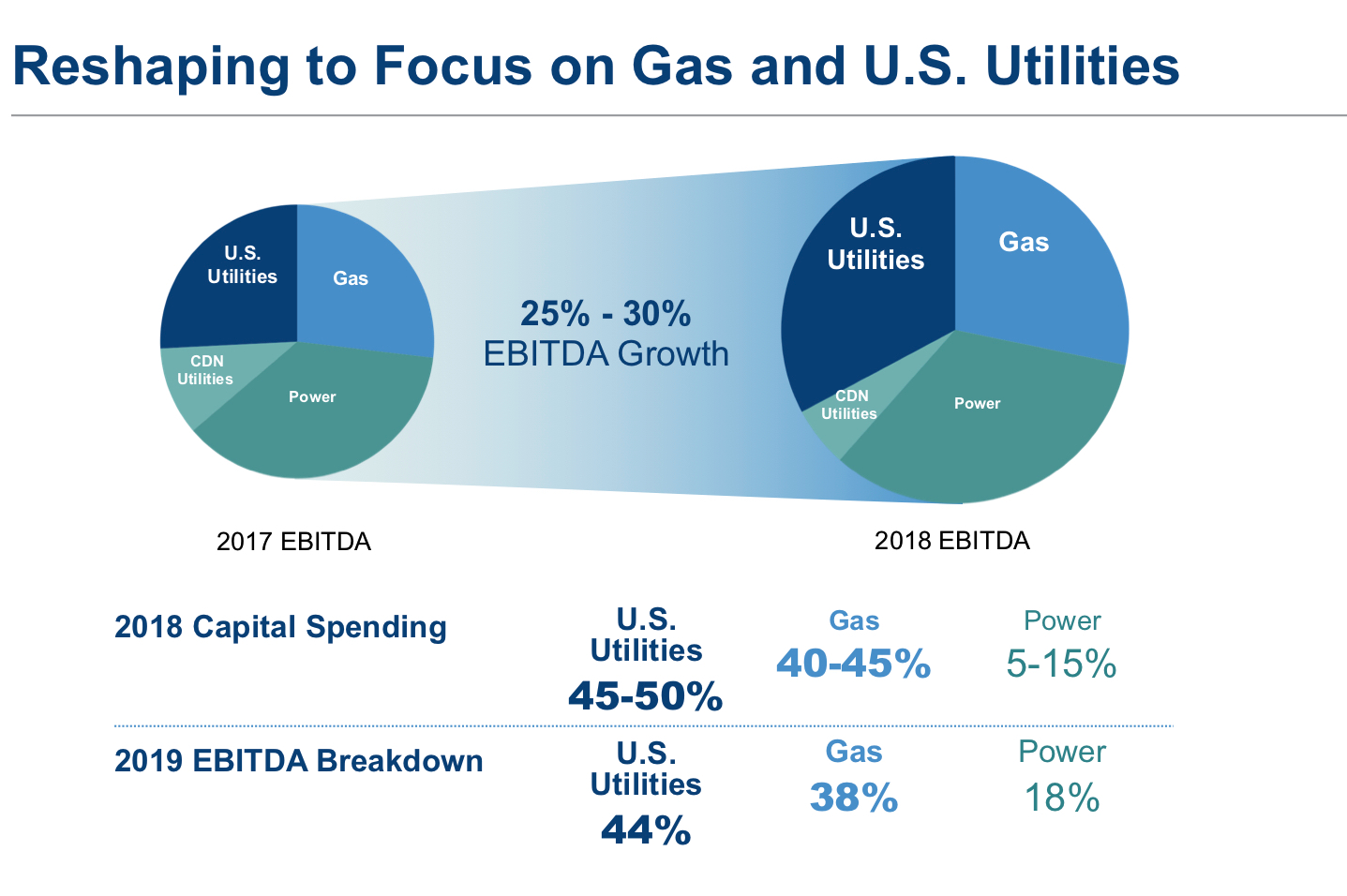 Deliver clean and sustainable energy to our customers with superior service, safety, and reliability.
Generate superior low-risk economic returns for shareholders by investing in low-risk, long-life energy infrastructure assets.
Invest in regulated assets or assets underpinned by long term contracts that provide stable utility-like returns and long-life cash flows.
Expand our business, supporting sustained capital investment and growth through organic growth and acquisitions.
Stability, Sustainability, Growth
We invest in high quality, low-risk energy infrastructure and utility assets underpinned by the growing demand for clean energy, strong fundamentals and long-term commercial agreements.
Our near term priority is to complete the funding of the WGL acquisition and strengthen our balance sheet, which will position us well for long-term shareholder value creation and growth.
Over the next few years, we have significant investment opportunities ahead of us, particularly in our Gas and U.S. Utilities businesses.
Stability
AltaGas owns and operates high quality, long-lived energy infrastructure and utility assets underpinned by strong fundamentals and long-term commercial contracts that provide stable cash flow and earnings to our shareholders. Approximately 80 percent of EBITDA is backed by medium to long-term contracts.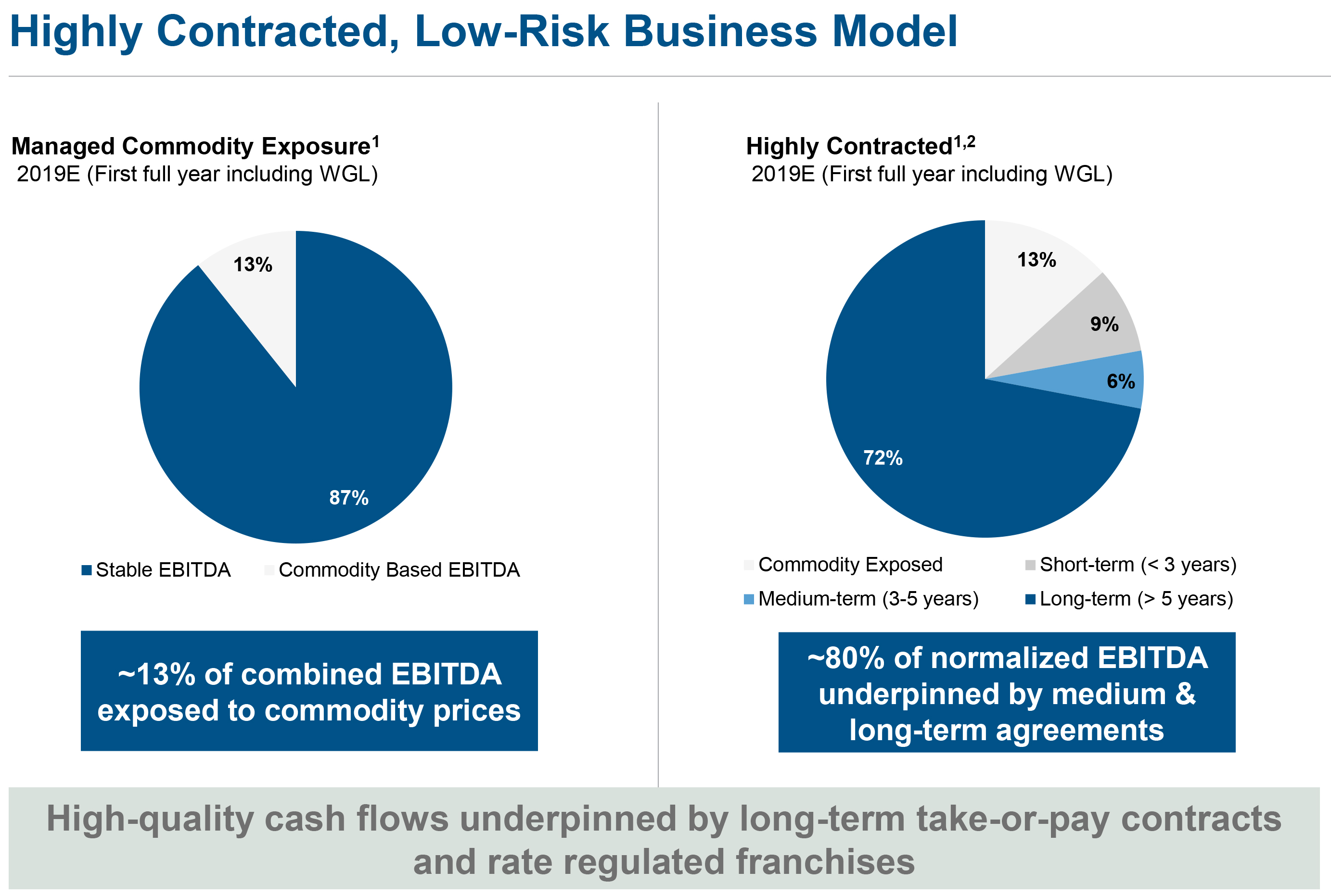 Geographic and sector diversification across Gas, Utilities and Power further improves the stability and predictability of our earnings and cash flow.
Financial strength and capital discipline are fundamental cornerstones of our long-term goal to create value for shareholders by minimizing our cost of capital and maximizing our return on capital invested.
Our comprehensive hedging strategy minimizes direct commodity and market price risk and volume exposure.
We continually manage our counterparty credit risk which remains an ongoing priority.
Sustainability
AltaGas operates in a safe, reliable manner, while working closely with governments, regulatory agencies and stakeholders to maintain positive relationships.
We balance economic priorities with social and environmental values and believe we can help meet the growing global demand for clean energy, while continuing to deliver sustainable benefits to our shareholders. We integrate sustainability fundamentals into every aspect of the business.
We own and operate assets underpinned by strong long-term fundamentals and provide clean and affordable energy to our customers.
AltaGas has the internal capabilities and resources to safely deliver capital projects in close partnership with Indigenous peoples and community stakeholders.
Growth: EBITDA growth and Dividend growth over last five years.
We have significant growth opportunities ahead of us, with Gas being the primary growth driver followed by U.S. Utilities
Over the last five years AltaGas has delivered a 19% compound annual growth rate (CAGR) in normalized EBITDA and a 9% CAGR in dividends per share for our shareholders.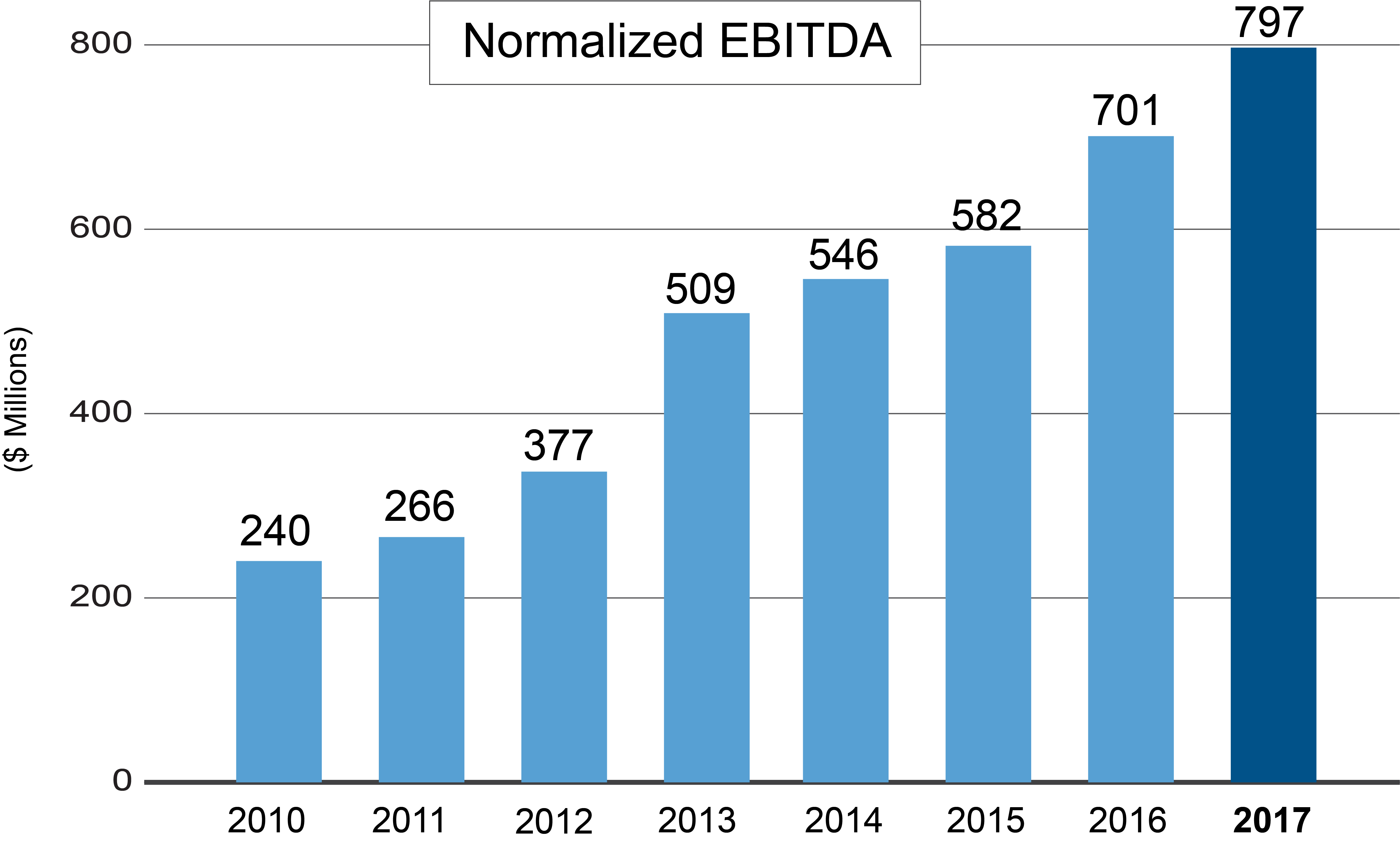 Cost efficiency and strong operating performance are key priorities for maximizing the value of our business as we continue to grow.
Strong North American gas supply and demand fundamentals provide significant opportunity for sustainable capital investment.
AltaGas has significant in-house construction expertise, having successfully completed more than $2.2 billion in projects since 2012.
We are continually assessing the macro and micro-economic trends impacting our business and seeking opportunities to generate value for shareholders.