Sustainability
Guided by our Core Values, we're integrating environment, social and governance (ESG) elements into our business.
We use data to make informed decisions and achieve results. This means operating a safe and reliable system, delivering cost-effective solutions, reducing our environmental footprint and creating long-term value for our stakeholders. 
Our commitment to ESG means:
Upholding our Core Values and operating with purpose towards a shared mission
Providing safe and reliable service – safety is job number one
Protecting the environment and minimizing our impact through the lifecycle of our operations, including actively reducing GHG emissions 
Investing in our people and culture – building one company and one team
Being the energy service partner of choice for our customers
Investing in our communities and building capacity,
Building long-term relationships with Indigenous Peoples, local communities, governments and regulatory bodies
Sound leadership and oversight with clear roles, responsibilities and accountabilities
Robust risk management practices and disciplined capital deployment
ESG Reporting
We publish regular ESG reports and updates to keep our stakeholders informed of our ESG performance. Our ESG Update includes performance data from across the organization.
Read 2022 ESG Report »    |    Download 2022 ESG Data »
AltaGas has participated in the CDP (formerly called the Carbon Disclosure Project) since 2010. The CDP is an international, independent, not-for-profit organization that maintains a global disclosure system enabling companies, cities, states and regions to measure and manage their environmental impacts.
Stakeholder Engagement
Maintaining strong relationships with our employees, investors, customers, as well as our community, Indigenous and government partners – is critical to our business success.
Starting early in the development of a project, we engage in discussions with local communities to gain a solid understanding of the region and to learn about the priorities, interests and concerns of our project stakeholders.
Ongoing communication with our stakeholders is critical to informing our community consultation, strategy development, and risk management activities, and ensuring we approach our work in a responsible way that creates social value where we operate.
---
Learn more about our current initiatives and future goals in our 2022 Environment, Social and Governance (ESG) Update.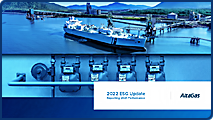 PDF | (4mb)