Corporate Sustainability
Corporate Sustainability is a business approach that creates long term shareholder value by embracing opportunities and managing risks derived from economic, environmental and social developments.
Sustainability challenges are shaping the competitive landscape for companies. Companies that take the lead in seizing opportunities and managing risks associated with these challenges are best positioned to outperform their peers. Long term challenges such as climate change, resource scarcity and demographic shifts are redefining societal expectations, public policies, regulatory frameworks and business investment outcomes. 
Each year, more than 3000 companies from a wide variety of industries are invited to participate in RobecoSAM's Corporate Sustainability Assessment, which is an industry specific questionnaire featuring approximately 100 financially relevant Economic, Environmental and Social factors. The RobecoSAM methodology is used by the S&P and Dow Jones Indices to publish the globally recognized Dow Jones Sustainability Indices (DJSI). This is the first index to treat Environmental, Social and Governance (ESG) as standalone performance factor. 
In 2016, RobecoSAM ranked AltaGas in the 85th percentile for total sustainability when compared against industry peers.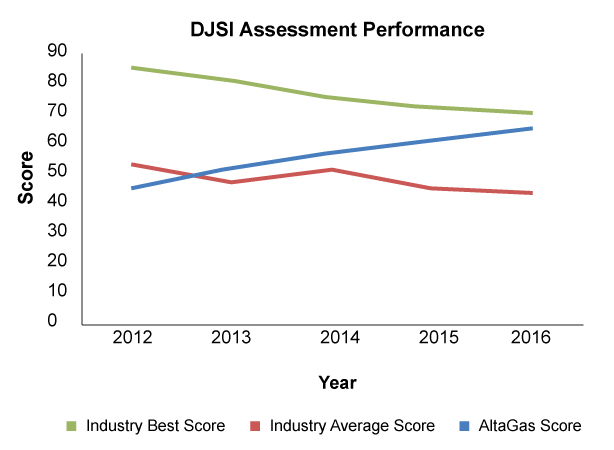 In recognition of this achievement, AltaGas was awarded a Bronze Class Sustainability Award in 2017 for its excellent sustainability performance. The award recognized AltaGas as one of the top scoring companies in its industry.

The Carbon Disclosure Project ("CDP") is a not-for-profit organization which holds the largest collection of self-reported climate change, water and forest-risk data in the world. A total of 4,500 companies from more than 80 countries share their environmental information annually.
The CDP is another important tool used by AltaGas to measure our environmental performance relative to our industry peers. The process ensures there is an ongoing business focus on environmental management within the organization. It also enhances the decision making process for AltaGas to make strategic changes that increase efficiency, save money and capitalize on commercial opportunities.
In 2016, AltaGas achieved a "B" or "Management" rating. This is the highest score AltaGas has achieved to date and a rating only achieved by 27% of companies within the energy sector. A Management level ranking demonstrates AltaGas' level of environmental stewardship, as well as the actions and approaches AltaGas is taking in managing climate change. This good result signals that AltaGas is effectively measuring its impacts, while taking coordinated action on climate change issues.