AltaGas Earns "A-" CDP Score for Leadership in Environmental Stewardship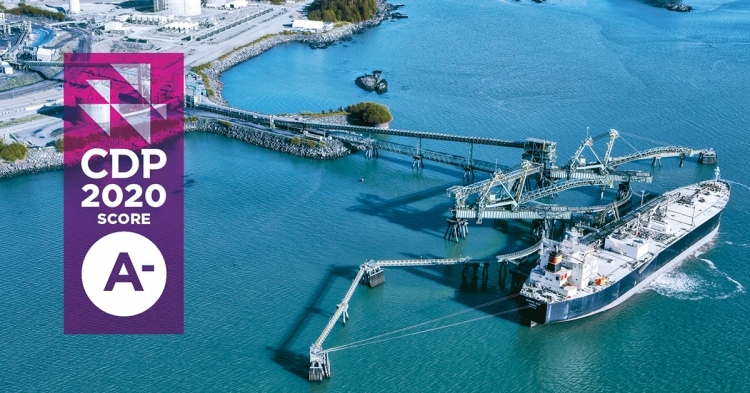 March 10, 2021
AltaGas is pleased to be recognized with a score of A- for its 2020 Climate Change response filed with CDP, (formerly called the Carbon Disclosure Project). The CDP is an international, independent, not-for-profit organization that maintains a global disclosure system enabling companies, cities, states and regions to measure and manage their environmental impacts.
The A- rating, an improvement over previous B scores, recognizes our continued focus on environmental awareness, sustainability governance and our ongoing leadership in Greenhouse Gas (GHG) emissions disclosure and performance. Overall, as reported by CDP in its findings, a score of A- beats North America's regional average grade of D and the energy utility networks sector's average of B.
"We are proud to have accomplished a CDP rating that places AltaGas among the very best in our industry," said Shaheen Amirali, Executive Vice President, Chief External Affairs and Sustainability Officer and Corporate Secretary for AltaGas. "The recognition underscores an essential part of our business practices ─ namely, by balancing economic priorities with our social and environmental values, we strive to meet growing global demands for the energy we provide globally, while continuing to deliver sustainable benefits to our stakeholders and shareholders."
AltaGas has participated in the CDP evaluation since 2010. In 2019, AltaGas was recognized for the fourth consecutive year with a score of B for taking coordinated action on climate change issues. This placed us in the 'Management' category, designated for companies that have demonstrated extra steps to effectively reduce emissions and advance environmental stewardship.
For the CDP report in 2020, over 9,600 companies with more than 50% of global market capitalization disclosed environmental data. The importance of transparency and environmental disclosure among stakeholders continues to be a priority, helping to inform investment decisions based on measurable efforts to perform business activity as a responsible corporate citizen.
Learn more details about our ranking and CDP report.