AltaGas provides new graduates with an excellent and exciting learning environment to prepare them for a promising career in the energy sector. Through AltaGas' unique and innovative New Graduate Program, a program that provides four consecutive six-month rotations, I have had the opportunity to develop remarkable skills and explore different areas of the company, while working closely with some of the energy industry's most experienced and dynamic leaders. My rotations included Internal Audit, Field Gathering and Processing, Investor Relations, and Treasury.
Upon the completion of the New Graduate Program, I took an  opportunity to move to ENSTAR Natural Gas in Alaska, one of AltaGas' subsidiaries, and assumed the role as Key Accounts and Public Relations Representative with the Business Development group. In this role, I help provide day-to-day liaison between ENSTAR and commercial accounts for the purpose of making gas sales. This position is responsible for direct marketing of gas to new commercial and residential customers as well as cultivating and maintaining strong positive relations with current customers.  
If you had told me while I was in university that a guy from the suburbs of Halifax and the son of two refugees from Lebanon would move to Calgary after graduation and then two years later move to Alaska or what is otherwise affectionately known as "the last frontier", I wouldn't have believed you. Now that it's happening, it's still difficult to believe.  However, I think that's a testament to the opportunities the New Graduate Program at AltaGas opens the door to. Anything in the New Graduate Program is possible, no matter where you come from, as long as you are willing to work hard every day, ask questions and have a positive attitude.
Fouad Habib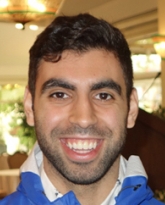 When I came to Canada 15 years ago, I had my doubts. I was leaving behind part of my family, my friends, my teachers and mentors. When we first came to Calgary I recall wondering what would be awaiting us in terms of our future challenges. Then I found a job with AltaGas and I knew that I had come to the right place.
I was thoroughly impressed with how quickly AltaGas adopted me. The company made it easier than I had anticipated. Not only did I find real enthusiasm and support to complete my professional accounting credentials, but also a friendly and warm environment. Looking back I realize I have learned a lot here. Working with professional and knowledgeable teams was, and still is, a lot of fun. I can say without doubt, that this company has adopted me and I feel I'm part of a big family named AltaGas.
Paul Puscasu